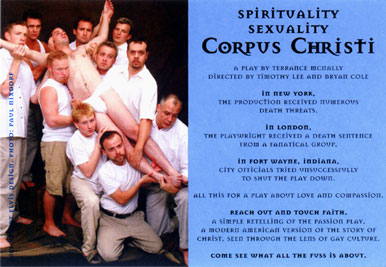 John Trones played Judas in Terrance McNally's Corpus Christi, made its Midwest premiere October 25th, 2002 at The Cedar Riverside Theatre, 425 20th Ave. South, Minneapolis, MN. The play was directed by Timothy Lee, and produced by Bryan Cole and The Gray Space Production Company.
John Townshend from Lavender Magazine calls the cast of "Corpus Christi", "One of the most impressive casts you'll see on any local stage this year…"
Terrance McNally's (Love, Valor and Compassion) controversial script is described as, "a passion play…The purpose of the play is that we begin again the familiar dialogue with ourselves: Do I love my neighbor? Am I contributing good to the society in which I operate or nil? Do I, in fact, matter? Nothing more, nothing less."
Each performance was followed by a panel discussion with a special focus on Amnesty International's program on human rights and sexual identity OUTFront network.
The ensemble cast included Trones, Stephen Frethem, Dan Averitt, Patrick Bailey, Topher Brattain, David Dubin, James Geckler, Joe Leary, Steve Lewis, Joshua Olson, Jim Pounds, Brent Teclaw and Mitch Thompson.
Corpus Christi ran from October 25th – November 9th, 2002.