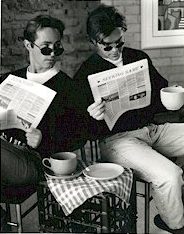 John Trones and Doug Anderson co-wrote, produced, and starred in
a series of three cabaret shows that followed the adventures of
two single roommates, having met through the personals, who share
the ever difficult task of looking for that perfect someone in a
most imperfect world.
Boy! Oh, Boy! was a sold-out hit at The Bryant Lake Bowl, and spawned two follow-up
productions; Don We Now Our Gay Apparel and Out With The Boys!
Boy! Oh, Boy!
"smart, funny and observant!"
-John Habich, Minneapolis Star Tribune
"The musical Boy, Oh Boy! was an unqualified hit at the Bryant Lake Bowl, selling out performance after performance . . . "
– William Randall Beard, Theatre Critic
"Boy, Oh Boy! is all around wonderful. It is clever and witty . . . the show's musical score is filled with spunk and vibrancy . . . absolutely hilarious!"
– Ryan Knoke, Pulse Magazine
Venue:
Bryant Lake Bowl Cabaret Theatre
810 West Lake Street
Minneapolis, MN 55408