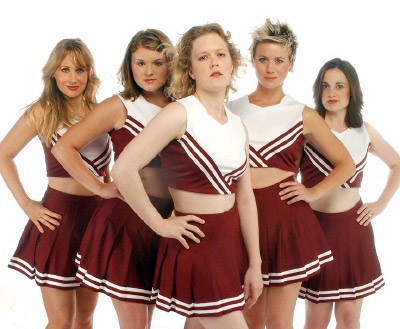 Featuring the talents of Stephanie Cordell, Kristen
Husby, Joanna Jahn, Brian Kelly, Carson Lee, Courtney Miner,
Toni Trussoni, David Tufford and John Trones.
Played September 30th – October 22nd, 2005 at the Minneapolis
Theatre Garage, 711 W. Franklin Ave, Minneapolis, MN
The Midwest Premiere of the most important theatrical event of the twenty-first century! Debbie Does Dallas is a modern morality tale told as a comic musical of tragic proportions in the style of rodeo-porno-football circus. The show is the coming-of-age story of an all-American small-town sweetheart named Debbie Benton.
Presented by Fifty Foot Penguin Theatre
Adapted by Erica Schmidt, Music by Andrew Sherman, conceived
by Susan L. Schwartz
Directed by Zach Curtis
Choreography by Jim Lichtscheidl
Music Direction by John Trones
What the critics said…
"For cheap, raunchy laughs and satire that occasionally stings so good, "Debbie Does Dallas: The Musical" puts the ball in the end zone. "Debbie" is in its Twin Cities premiere with a spirited production by Fifty Foot Penguin Theater. Director Zach Curtis and his cast give it their best game.I'm not sure which cheerleading squads writers Susan Schwartz and Erica Schmidt were kicked off in their youth, but they still have a deliciously cynical axe to grind…Musically, "The Dildo Rag" is a hysterical song-and-dance about self-gratification." Graydon Royce, Star Tribune"A welcome sight and sound for theatergoers who have suffered through an endless parade of bad movies made into even-worse musicals, Debbie Does Dallas: The Musical! takes a journey into previously uncharted territory: soft-core porn.Give credit as well to the nine performer cast, led by Kristen Husby as Debbie and Joanna Jahn as Lisa, who are willing to do just about anything on stage to get a laugh. This is most clear in the near show-stopping "The Dildo Rag," which … ah, I'll just leave it to your imagination.In the end, Debbie Does Dallas: The Musical! doesn't need memorable songs to make a fun evening. Instead, it relies on its active cast and fresh take on a tired genre. It's even kind of heartwarming, in a "is that the only dream you possibly could have?" kind of way." Ed Huyck, TalkinBroadway.com